DDD and DDE in suspended particulate matter (SPM) of rivers Rhine and Elbe
Significant higher contamination in the river Elbe
DDD and DDE are metabolites of the insecticide DDT. DDT was used in German agriculture and forestry until 1972 (Federal Republic of Germany) and 1984 (German Democratic Republic, GDR), respectively. Both metabolites are environmentally persistent and have a high potential for bioaccumulation and biomagnification.
DDD and DDE concentrations in suspended particulate matter (SPM) from rivers Rhine and Elbe differ strongly. Significant higher concentrations are found in the river Elbe which gives evidence of the prolonged and larger use of DDT in the former GDR. At the sampling site Blankenese the dilution with North Sea water results in lower contamination levels.
The routinely analysis of suspended particulate matter for DDD and DDE was not continued after 2012.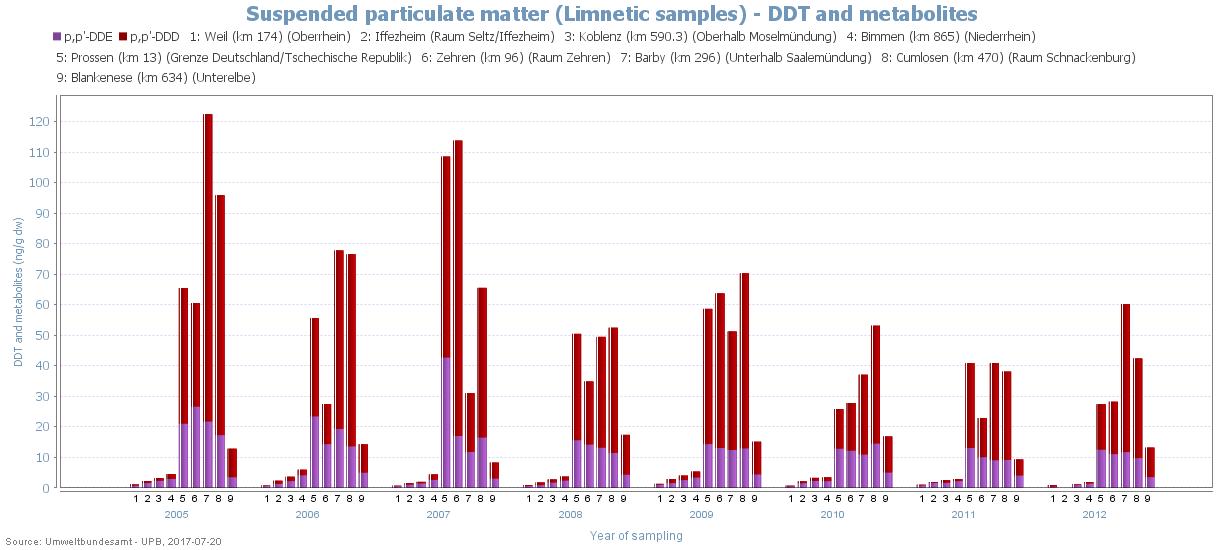 Recommended profiles
Specimen
Fine insoluble mineral or organic particles in the water phase
Sampling area
Fourth largest river basin in Central Europe