Fluoranthene in spruce shoots from the
Saarländischer Verdichtungsraum

and the

Nationalpark Bayerischer Wald

Hardly any differences in contamination between a region with high anthropogenic impact and a semi-natural environment

Fluoranthene contamination originates mostly from combustion of fossil fuels. It is persistent in the environment and has a high potential for bioaccumulation. In recent decades, environmental protection measures have significantly reduced emissions from industrial plants and conurbations.
The effectiveness of these measures can be clearly seen in spruce shoots from the Saarland sampling site Warndt and from the National Park Bayerischer Wald (Bavarian Forest). Fluoranthene exposure in the Bavarian Forest has remained at a low level since the beginning of the study. The fluoranthene levels in conurbations show a completly different picture: Spruce shoots from the Warndt did have significantly higher fluoranthene levels in the 1980s. Since then, however, contamination of spruce from the Warndt has significantly decreased. Possible reasons are improved emission protection measures and the shut-down of the Völklinger Ironworks in 1986. Today, there are hardly any differences between fluoranthene levels in spruce samples from the Warndt and the Bavarian Forest.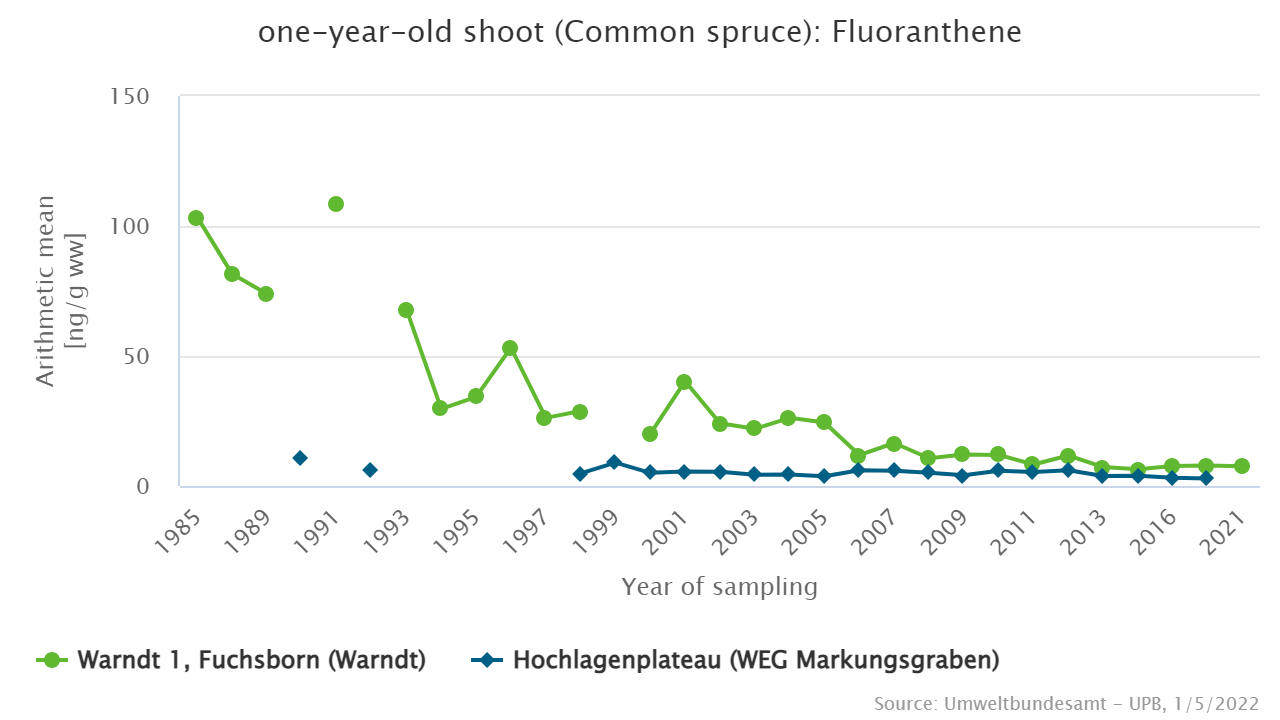 Updated at: 2022-01-11
Recommended profiles
Specimen
A major primary producer in semi-natural and anthropogenic affected ecosystems.
Analytes
Polycyclic aromatic hydrocarbon with three six-membered rings and one five-membered ring
Sampling area
Important, old-industrialised conurbation in Germany.

Germany's first national park